This wiki is no longer updated, please check out our new wiki at
http://iblamelee.co.uk/pwo/wiki/index.php
. Any membership requests will be rejected. You can sign up for the game via the on the Playerdex (playerdex.pokemon-world-online.net/register.php).
Spanish guides
Como calcular los status de mi pokemon
A continuación voy a explicarles como poder saber si su pokemon es bueno o malo mediante un calculador.
1 –
Primero y principal abriremos la siguiente pagina : http://veekun.com/dex/calculators/iv
2 –
Ahora se preguntaran como completar cada casillero ¿verdad? se completa de la siguiente forma, por ejemplo:
Pokemon:
Dragonite
Lv:
100
Nature:
vacio
Hp: 323
Atk:304
Def:223
Sp.atk:236
Sp.def:236
Spd:196
3 -
Luego de completar los casilleros darle clic a *RECALCULATE IVS* para que este calcule los status.
Aparecera lo siguiente: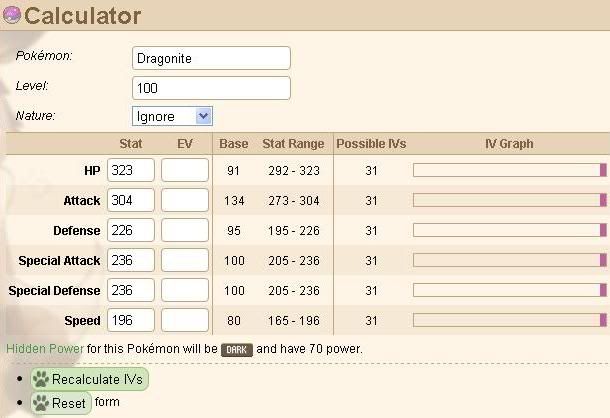 Stat:
son los status actuales de tu pokemon
Stat Range:
Muestra el minimo y el máximo status al que llega ese pokemon(en este caso dragonite)
Possible IVs:
Muestra la cantidad de IVs que tiene tu pokemon.El minimo de IVs es de 0 y el máximo de 31.
Si tu pokemon tiene de 0 a 12 IVs significa que tu pokemon es de bajo status.
Si tu pokemon tiene de 13 a 20 IVs tiene un status medio.
Si tu pokemon tiene de 22 a 31 IVs significa que tiene un status alto.
IV Graph:
Es una barra que identifica el status mediante colores.
Los status de un pokemon no son todos iguales,pueden ser variados: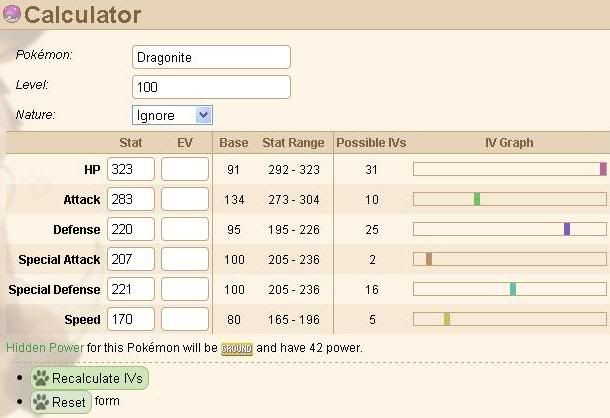 Como podrán ver los status de este dragonite son diferentes a los status del otro dragonite, este dragonite presenta status altos en Defensa y Hp, presenta status medio y bajo en Ataque, ataque especial, defensa especial y velocidad.
Donde encuentro los status de mi pokemon?
Los status de cada pokemon se encuentran en:
http://www.playerdex.com  My Pokemon  Clic sobre el pokemon para ver los status
o
Desde el juego apoyando la flecha del mouse sobre el pokemon seleccionado para ver sus status :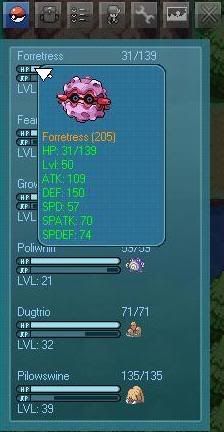 Otra pagina que ultimamente se esta utilizando mucho para calcular stats es la pagina creada por masterk:
http://mypwo.info/
Es todo.
Guia del pescador
Antes que nada deberán saber donde se compra la caña(good rod) y cuanto cuesta la misma:
El precio es de 25k mas o menos
Y se compra en el mart/mercado: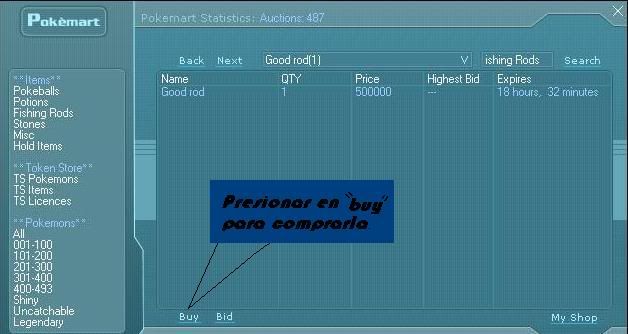 Como algunos podrán deducir, la pesca tiene un nivel de habilidad, el cual les permitirá atrapar ciertos tipos de pokemons.
Por ejemplo, si usted encuentra un pokemon, pero no tienen el suficiente nivel de pesca para poder atraparlo aparecerá el siguiente texto:
"You have encountered a XXXXXXX but weren't skilled enough and it swam away"
(se ha encontrado un xxxxxxx pero su habilidad no es suficiente y se fue nadando)
Es por eso que acontinuacion veremos que nivel de pesca deberán tener para atrapar ciertos tipos de pokemons:
Level 0-5:
Magikarp
Level 5-10:
Krabby
Poliwag
Level 10-15:
Goldeen
Staryu
Level 20+:
Slowpoke
Tentacruel
Gyarados
Level 40+:
Dratini
Lapras
Spheal
Shellder
Y màs…
Para pescar solo se paran delante del agua y le dan clic a la Good Rod.
Localización de cada uno:
Magikarp :
Blackthorn City – Celadon City –Pallet Town – Johto Safari Zone – Lake of Rage – Olivine City – Route 10-11-13-22-24-30-31-32-34-35-4-42-43-44-45
Krabby:
Olivine City –Palet Town – Route 10-11-13-22-24-4-42-43
Poliwag:
Blackthorn City – Celadon City –Fuschia City – Johto Safari Zone –Viridian City- Route 13-22-24-25-30-31-35-42-43-44-6-
Goldeen:
Celadon City –Fuschia City – Johto Safari Zone-Route 13-19-22-24-24-34-35-42-6
Staryu:
Olivine City-Route 34
Slowpoke:
Johto Safari Zone – Slowpoke well-Science lab –water lvl1/lvl2
Tentacruel:
Olivine City – Science lab lv1 –Route 19-32
Gyarados:
Lake of Rage – Route 44
Dratini:
Science lab wáter lvl2 –Safari Zone
Lapras:
Science lab wáter lvl2
Spheal:
Science lab water lvl2
Shellder:
Olivine city-Route 19
Es la ubicacion de algunos pokemons que pueden ser capturados mediante la caña. Para saber la localizacion de cada pokemon simplemente introduzcan: /LIST NOMBRE ; ejemplo /list shellder, acontinuacion van a ver que en el GLOBAL CHANNEL se muestra la ubicación del pokemon.
Eh aquí un video tutorial creado por el EX mod Arnie:
http://www.youtube.com/watch?v=cTDR3koL3D0
Eso es todo :) .